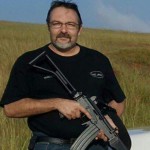 Anton Koen:
Anton is the founding member of our Company.
His experience includes more than 32 years of Law Enforcement and Vehicle Tracking related experience.
Anton's passion for the safety of our customers and their assets is legendary.
With Anton's Operational Leadership NoJack prides itself in a 100% recovery rate.
Anton's unsurpassed experience in dealing with high risk situations in a calm and controlled manner provides the ultimate peace of mind for customers.
Anton invests his spare time in patrolling high crime areas in search of criminals.